As the eldest Wagner brother described a difference in excitement being an assistant coach versus an assistant coaching a brother, the youngest Wagner couldn't help but smile.
"Sometimes I think he's more into the match than I am," South Seneca senior Adam said while seated next to his brother, Ian, in the school's wrestling room in March.
"I don't know if he misses it or he can sense that I'm out there and he feels something and he likes the excitement."
Adam finished his final Falcon year as runner-up in the 145-pound weight class at the New York State wrestling championships at Times Union Center in Albany, his only loss on a 45-1 senior year that also ended a three-brother grapple on wrestling success over the past decade.
John and Debbie Wagner and middle brother Hayden were all in the stands to watch the final matches as Ian, the one who started it all, was down near the mat as an assistant coach.
In the state finals, Adam got a takedown in the very beginning. Ian was pumped up in the corner, clapping, hitting moves from his own stance. As young elementary school lads two years apart, Ian and Hayden joined the youth wrestling program and stayed with it, rising the ranks with head coach Kenny Sweet. Adam made it a Wagner trio, having grown up with the game, and put the ganache on the bulging award case.
When their basketball-playing father went to South Seneca, the Falcons weren't known for their prowess on the mat. Yet now the banner hanging in the gym has had to be extended, there were so many league championships to list.
The three Wagner brothers have been large contributors with the two older brothers helping to set the spotlight and growth for Adam's incredible senior year.
"Having them before me I saw some of the things that other people wouldn't and I have them for experience," said Adam, who joined Hayden as the only Falcons to place in the state tournament. "They had experienced it all and they could pass that down to me. Definitely, it helped me out a lot."
All three of them accrued more than 100 wins and a state class title. In Ian's 2009-10 senior season, he won a Class B championship at 135 pounds and the Outstanding Wrestler Award while sophomore Hayden won the title at 152 pounds.
Ian (pronounced I-an) went on to place second at the Section V "Super Sectionals" State qualifier, improving upon his fourth-place finish junior year. He also won a classification title in '08 and was runner-up in '09.
As a student at the College at Brockport, SUNY, where he wrestled for a short while, he would spend elongated college breaks back at South Seneca to help Sweet and the team. Upon graduation in 2014 he joined as a full-time assistant.
"I just liked getting on the mat again even if it wasn't competitively," said Ian, who works at the family's winery, Wagner Vineyards Estate Winery. "And yeah, I guess I just liked the aspect of helping out younger generations and trying to get them to reach what they can reach of their potential."
For Adam, who's seven years Ian's junior, it was incredibly beneficial. Adam had a dominating senior year, earning scores of Outstanding Wrestler Awards at tournaments. He repeated as Wayne-Finger Lakes League champion (he won at 138 his junior year), adding to second place sophomore year (132) and fourth place freshman year (120).
"I think the last two years he really came into his own and he started wrestling his match," Hayden said during a phone interview. "He started getting a lot more aggressive. And his body improved a lot so he was more dominant on the mat, so that supers was really fun to watch."
As head coach Kenny Sweet wrote in an email after the state qualifiers, Adam had to "chase every wrestler he faced at 145. Of course when you are 42-0, they have a reason to run."
Adam's one main goal his entire life, he said, was to make the state championship final. Ian knew it and all saw how four full years of the coaching-athlete connection helped.
"I love seeing Ian out there with Adam," Hayden said. "You can really tell that he is committed to this team and really committed to Adam."
The two were sparring partners and as the older, wiser and stronger brother Ian could give Adam what he needed to improve.
"It's a lot of fun to get pushed the whole year," Adam said, "so I knew I was reaching my potential and not just sitting around and going through the motions and at the end of the year wondering if I could have gone farther, could have done better. But I know he was pushing me as far as I could go. I was prepared."
As a 2-seed in the bracket, Adam defeated Onteora's Zach Chartrand via fall at 4:14 and then Cold Spring Harbor's Christian Tartaglia via a 3-1 decision. To get to the final he took down 3-seed Dylan Ingrao (Falconer) by a tight 7-6 decision, setting up the 1 vs. 2 final against Central Valley Academy's Tanner Cook. Cook, who finished his senior year 55-1, won by a 10-8 decision.
Adam will graduate with the school's record in wins at 203, though only the first name on the list will change after he overtook Hayden's 181 victories at the South Seneca duals in December. The whole family was there, including the previous record-holder, who only saw it as a good thing.
"I knew it was going to happen from when he started wrestling. I knew he was going to be more successful than I was," said Hayden, who is in his final year of an MBA program at Rochester Institute of Technology for a job in the web and software industry.
Hayden graduated in 2012 with a senior year that consisted of a second-place finish at the Wayne-Finger Lakes Wrestling championships and a Class B wrestling championship at 160 pounds. He placed second at the Section V championships and third at states. He also has a 2010 Class B title and a 2011 second-place finish.

+1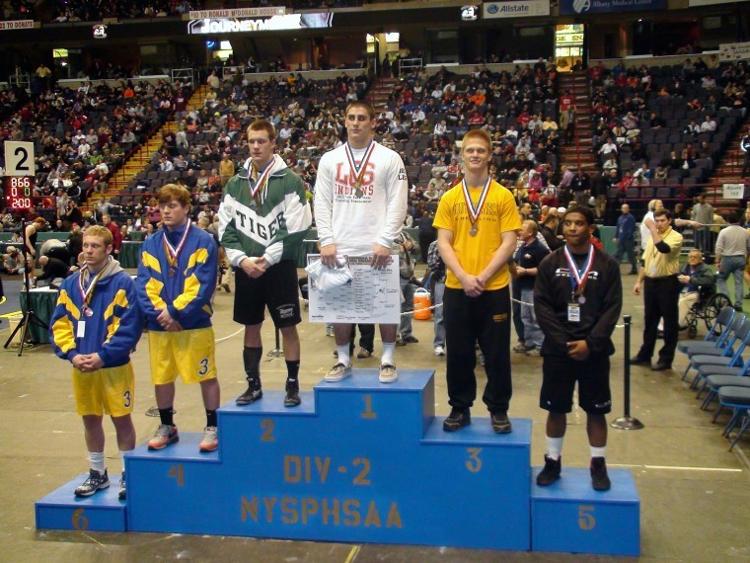 "Me being the middle brother is cool," Hayden said. "I had an older brother who had done it and he had gone through a little more than me when he was a junior and senior in high school. So I could get some experience from him when you get to the higher level matches and things like that. And then having Adam as a younger brother I could try and teach him and watch him to try to help him get better, too.
"I think day-to-day it was good to have that support system there."
The Wagners have a wrestling mat in the basement, though when Ian became an assistant the brothers would head over to the high school to wrestle. Ian and Hayden spent the most time on the team together being two years apart, though when Hayden was a senior Adam joined him on varsity as a seventh-grader.
Hayden said since the two older brothers were so close in age, much of the teaching moments came from Ian. For the oldest and youngest it was a fun year – albeit a fun kind of stressful, Ian said.
Ian will keep working with the Falcons next season a crop of returning wrestlers looking to keep the bar high. Hayden is preparing for graduation this May. And Adam has already transferred into track season while waiting to hear back from colleges around the state. He isn't sure about continuing in wrestling yet and is looking to major in either physical therapy or, if at Cornell, the other family legacy: viticulture, or the making of wine.
Follow Cassandra Negley on Twitter, @casnegley.